An internationally recognized expert on the history, art, and archaeology of Afghanistan, Nancy Hatch Dupree (1929-2017) dedicated more than 50 years of her life to documenting and preserving Afghanistan's cultural heritage. Ms. Dupree arrived in Kabul in 1962. For the next 15 years, she and her late husband, Louis Dupree, a renowned archaeologist and scholar of Afghanistan's culture and history, traveled throughout Afghanistan, conducting archaeological excavations.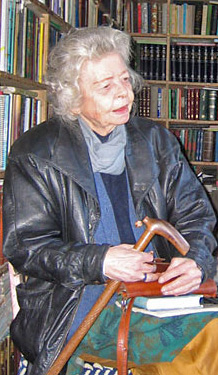 Ms. Dupree wrote five guidebooks to Afghanistan (one of which became the inspiration for Tony Kushner's play Homebody/Kabul) covering all major archaeological and historic sites, as well as a well-known guide to the National Museum, which was the de facto illustrated catalogue of its rare and priceless collection.
Ms. Dupree continued to educate both Afghans and the world about Afghanistan's cultural and artistic heritage. She published over 1,000 articles, reviews, encyclopedia entries, chapters in books, and monographs, on various Afghan subjects, including Afghan history, cultural heritage, ethnography, archaeology, literature, folklore, education, sports, libraries, environment, constitutions, women, women and law, women and agriculture. She wrote numerous reports for foundations, international organizations and nongovernmental organizations. From 1995 until recently, Ms. Dupree was a regular columnist for Sweden's Afghanistan Nytt, and she continues to write articles for the publication.
At the time of her death in 2017 at the age of 89, Ms. Dupree was Executive Coordinator of the Afghanistan Centre at Kabul University (ACKU), a nonprofit organization in Kabul for which she was Director from 2006-2011. ACKU grew out of the Agency Coordinating Body for Afghan Relief and Development's Resource and Information Center, which Ms. Dupree founded and directed with Louis Dupree in Peshawar, Pakistan in 1989.
ACKU's motto is sharing information for nation building. ACKU promotes research and information sharing through the dissemination of knowledge, and enhancement of the capacity of Kabul University and other private institutions in Afghanistan. As a resource center, ACKU facilitates research by Afghan and international scholars who use its collection of more than 100,000 documents in Dari, Pashto, English and other European languages. ACKU reaches Afghans outside Kabul through the ACKU Box Library Extension (ABLE), which encourages the culture of reading and spread knowledge by providing reading material through small lending libraries. ABLE libraries are placed in high schools and communities across Afghanistan; currently, there are 250 ABLE libraries in all 34 provinces of Afghanistan. ACKU reaches out to the local and international community in Kabul by hosting a variety of activities at its Kabul University campus location, including workshops, lectures, seminars, debates, film screenings, exhibitions and public talks.
Ms. Dupree received numerous awards, including the Sir Percy Sykes Memorial Award from the Royal Society of Asian Affairs in London; the Archivist of the Year from the Scone Foundation in New York; the Highest State Malalai Gold Medal from the Islamic Republic of Afghanistan for her long-standing efforts to aid the Afghan people in the fields of education and cultural heritage preservation; and an Outstanding Achievement Award from the Society of Woman Geographers. She held a bachelor's degree from Barnard College; a master's degree in Chinese Art from Columbia University; and honorary degrees from Williams College and the American University of Afghanistan.

Click here to purchase a copy of Nancy's
Afghanistan Over a Cup of Tea.