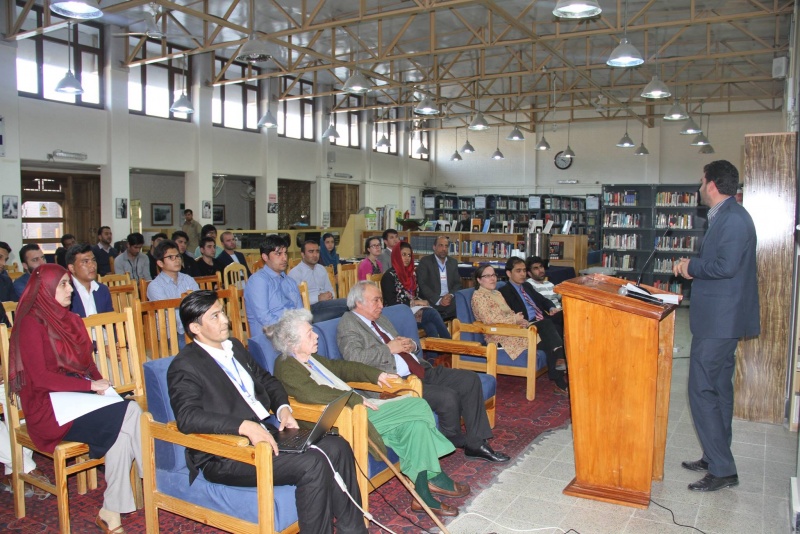 On February 28, an ACKU station was officially opened at American University of Afghanistan (AUAF). In attendance were Mr. Sharif Fayez, founder of AUAF, Nancy Hatch Dupree, Executive Coordinator of ACKU, Abdul Waheed Wafa, Executive Director of ACKU, and Dr. Rebecca Miller, Library Director at AUAF, and a significant number of students from AUAF.
Dr. Rebecca Miller warmly welcomed ACKU members and the participants. Nancy talked about the history of ACKU, how the center was established in Peshawar and about its move to Kabul University. In her opening speech, Nancy mentioned that ACKU's mission is to share information for the sake of nation-building. She added that "books look lovely in the shelves, but they are useless if we do not take them off the shelves and use them." In her speech she also emphasized the importance of research.
Abdul Waheed Wafa briefly introduced and presented the ACKU online database to the students. He said that ACKU has not stopped doing what Nancy did in Peshawar; ACKU now has more than one hundred thousand items in its collection related to Afghanistan. Mr. Wafa requested that students become active users of ACKU resources.
To see the original post and more photos, visit https://www.facebook.com/acku.edu.af/posts/1697789293777315