by Ambassador Theodore L. Eliot, Jr.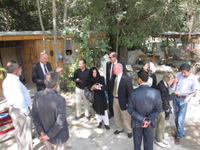 I had a wonderful visit in September to ACKU, accompanied by David Arnold, currently President of the American University of Cairo who became President of The Asia Foundation on January 1, 2011. Also with me was Gina Chu, like me an Asia Foundation trustee, and Jon Summers and Richard Smith, past and present Asia Foundation Representatives in Kabul. We saw both the building site and the temporary ACKU rooms in the University complex. I must say all of it exceeded my wildest expectations. The collection itself is marvelous, and to see it being digitized was, for me, a dream coming true. The new building will be magnificent, and I think both the architecture and the building materials mean it will be the distinguished building it is meant to be.
The only downer - and it was a huge one - was that Nancy's plane didn't fly, so she couldn't be there. We had a good talk on the phone, and it was fun to hear her voice, but I sure missed seeing her, as did the rest of our group.
Ambassador Eliot is a Trustee of The Asia Foundation and a Member of Dupree Foundation's Advisory Council. He was the US Ambassador to Afghanistan from 1973-78.